The Mountain Artists
Join Us For Our 2017 Holiday Show November 25, 2017!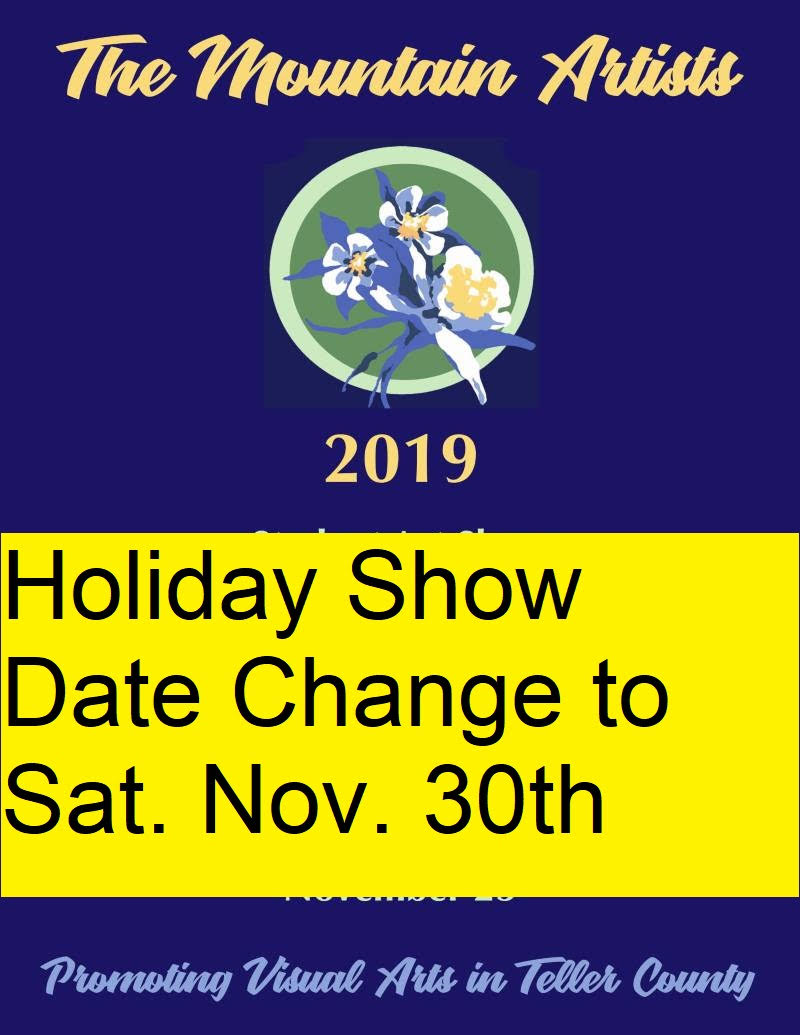 Click To Download Membership Application
Who We Are
The Mountain Artists are a group of passionate artists and non-artists, interested in promoting and supporting the visual arts in the Woodland Park,Teller County, Pikes Peak, Colorado region. We truly believe that 'Art enriches everyone's lives'. We welcome new members!
The Mountain Artists sponsor the annual Teller County Student Art Show, the Summer Teen Art Workshop, Youth Scholarships, the annual Mountain Arts Festival, the annual Holiday Member's Art Show & Sale, additional workshops, local exhibits, visits to museums and galleries, and other related events.
Originally established in 1989, the purpose of Mountain Artists is to promote, encourage, support and assist in the making and showing of visual arts by persons of all ages in the Ute Pass/Teller County area. Mountain Artists is a 501(c)(3) organization and donations are tax deductible according to IRS regulations.
Calendar of Events
Mountain Arts Festival
The Mountain Artists
We're always excited to share the world of art with new visitors and old friends. The Mountains Artists community has helped touch new artists of all ages throughout the Pikes Peak region. We strive to offer a relaxed, friendly connection where nationally recognized & award winning local artists are very willing to share their skills and experience with our newest members.
Whether you are just beginning your journey into exploring the visual arts or have many years of experience, we hope you will join us in supporting the arts throughout our mountain community. Our beautiful Colorado setting is the perfect place to enjoy & explore the artist in you!
Our Goals
Foster appreciation and awareness of visual arts in the community.
Support the concept of an "arts community" in the area.
Promote and support visual art education for all members of the community.
Our Meetings
Mountain artists meet at the UtePassCulturalCenter. Join Us At Our Next Meeting: 2nd Saturday of each month at 9:00 AM *No meeting in December
Our "community" includes the entire Ute Pass Area. The friendly and historical cities and towns of Woodland Park, Divide, Florissant, Lake George, Cripple Creek, Victor, and Deckers in Colorado.
Our members have a variety of skill levels from beginning artist to the accomplished professional. We hope you will take this opportunity to review a few of our artists' online galleries. You will find unique art creations in many art disciplines and a wide variety of mediums. You can contact most members directly from their profile page.
The Mountain Artists believe in helping artists of all ages find new ways to express themselves and believe in encouraging young artists.
Programs for teens
Teller County Student Art Show: We sponsor this annual show each spring near the end of the school year. It is open to all middle school, high school, private school and home school students. We provide monetary awards for the top participants.
Education Scholarship: This year we are offering a $2000 education scholarship to a student who will be attending higher education this fall.
Summer Teen Art Workshop: The group sponsors an annual Summer Teen Art Workshop in Woodland Park. The workshop introduces teens to the fundamentals of traditional oil painting. It is a one-week intensive class with a showing of their completed work at the end of the week.